10% off sale
Store-wide

Free shipping
Australia Only

Secure Site
SSL Certificate, keeps your details safe
Lets take a detailed look at our Cycle Of Life™ Birth Certificate Prints.
These beautiful A4 (210mm x 297mm) glass framed birth prints with optional stand, look stunning, wherever you decide to place them, they make a great alternative to a plain photo, giving relevant details of the child's birth details.

Made by the renowned Trudy Pastor, they look absolutely stunning! We print them on a Superior high quality satin resin silk photo paper, using a pigmented long lasting archival ink, so they will last & look absolutely beautiful.

The Cycle Of Life™ prints take a while to research & design as each one is made to perfection & detail, so please be patient. They include detailed information for the child's birthday, month & year including an almanac table of moon phase, Maximum & Minimum temp on the child's actual birth day at the birth location the child was born in. There is also Chinese Horoscope Wheel, Zodiac & Graphical Birthstone, all balance to compliment your design colour choice.
Lets take a quick tour, so you can see in detail what you get:
Have you tried our magic zoom tool? Just hover over image & click to see a magnified detailed look.
You will also get the child's name, date & time of birth, weight, length, hospital or place the child was born at. To top it off we place a short meaning of name sentence or you can send us a personal message, poem or wording to finish it off.
Note: All we need from you is a clear photo of the child also the name, date, time & place of birth. We will do the rest. If you cannot get all the details, we will leave it off & balance your birth print so it still looks professional. WE WILL ALWAYS GET YOUR APPROVAL before printing by supplying a proof first.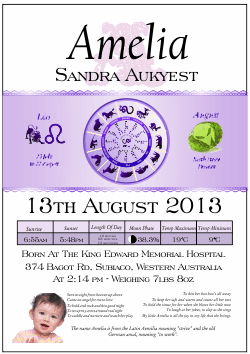 More Photo Info HERE for further photo information
.
Your Cart

Shopping cart
Your Account

Login Status
Not logged in