Why not add a photo to your height growth chart.
If you are wanting to add a photo, we can also offer or picture blend service to make the child look like it part of the Growth Chart.
Simply email us your photo AFTER placing your order please give us your NAME or order number so we can match up your order.
Don't worry we won't start work on your order until we receive the photo & will email you if we did not receive the photo/s. We will contact you, via email & always send a proof for your approval before going ahead & printing the chart.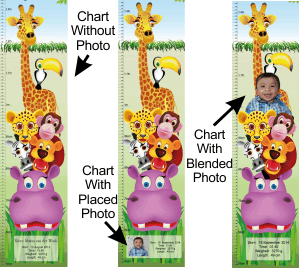 Note: ALL our height charts can have photos added to them. The one shown above is an example.
It's just a matter of finding a clear photo of the child you would like displayed & we will do our best to make it fit. We will use our creativity & initiative. It takes time to do the blending & please be aware that we cannot do the impossible. When selecting a cropped & blended photo we can send you a proof for you to approve.
Note: The photo should be in a reasonable resolution. Images taken from a website might look good on screen but when they are printed the can look blurry or pix-elated. If the image is around 200kb - 400kb in size it is usually considered good high quality anything below 50kb is considered very low quality. The MAXIMUM SIZE, WE ACCEPT is 5mb.
We have two photo options Photo Placement or Cropped & BLENDED option.
PHOTO PLACEMENT TERMS & CONDITIONS
Please send us a quality photo & make sure it's not blurry. Photo placement means just that we will place the photo you give us on the product you order. We will not crop or do anything with the photo you send us apart from placing it in an appropriate area of the height chart, birth print or banner, if the image is poor quality then we are sorry, but that's what you will get.
By adding a straight forward photo placement to your order you agree to these terms & conditions.
Photo Cropping / Blending Terms & Conditions.
We will crop & blend your photo to the best of our ability, but please understand that we will not & cannot spend hours on the details. The plainer the background the better your photos end result will look.
If you don't like what we have done with the photo, we can do one of the following:
1. Delete the photo (we cannot refund as we have provided a service). We will then print your height chart without the photo.
2. Use the photo with the existing background & just place your photo on height chart without cropping.
3. Send us another photo to crop. (further charges will apply).
Your first photo cropping & blending charges are discounted within the height chart price. We do our best to make your photo look good within the height chart. It is not our intention to make the child look funny nor do we intend to offend.
Whoever uploads the photo hereby understands & agrees to these terms & conditions and has sought permissions from the child or children on the photo to be displayed & furthermore are responsible for any copyright restrictions (if any) the photo my have.
By adding a photo blended option to your order you agree to these terms & conditions.
Your Cart

Shopping cart
Your Account

Login Status
Not logged in