Beautifully hand made & designed bedroom door name plaques signs with outstanding high resolution graphics, will complement any baby nursery, childs room or door.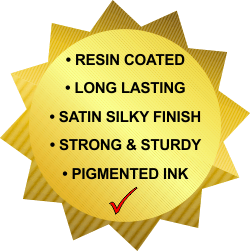 Printed with a high quality pigmented ink on a white 3mm thick base. They are extremely light weight, around 50 grams.
Sign can be any name or text wording, including two names. Example: Mark's & Luke's Room, Mary's Cot, or just a name without the room, BUT remember, the more text, the smaller the writing becomes.
The size is approximately 200mm x 110 mm & come with either picture hanger, strong Velcro self stick hook & loop dots, or (white not blue) non-marking tack pieces.
The following discounts apply to all these products.
10% Off All Name Signs
Free Post (Aust only)
Your Cart

Shopping cart
Your Account

Login Status
Not logged in