Our personalised grow tall wall charts, will make a beautiful addition to any child's bedroom or nursery. The growth charts are also known as Height Charts & are used to measure the child as an alternative to marking the wall or door frame. Our charts can be removed if moving & packed away as a keepsake when the child outgrows it. The chart can easily be marked with pen or fine tip marker within the existing ruler markings located on the chart.
With nearly 200 growth/height charts designs, you have a wide choice to choose from, they will also enhance the existing room decor.

If buying as a gift, then why not place it in one of our 26 presentation, gift box tube designs (from only $4 extra), plus they can also be personalised with the child's name &/or a short message. Our designs cover most events, Newborn, 1st Birthday or General Birthday, Christening &/or Baptism not to forget Christmas. All our designs & more information can be found on our gift tube page here.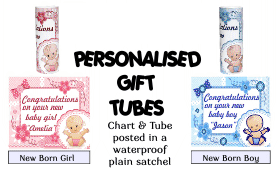 We can also provide an extremely quick turnaround express service. Our same day printing services means you can get the Height Chart within 1 or 2 days if ordered, before 10am Australian Central Standard Time.
Terms & Conditions Apply
.
Select this option upon purchasing your Height Chart. Note: This fast production does have a service charge added.
There are 2 materials available:
Satin Card: Beautifully Hand Made Charts. These are printed with long lasting high quality vivid pigmented ink on a resin coated base, 260gsm thick card.

Fabric: The ultimate super strong, light weight, (child-proof), tear proof & water resistant fabric chart.
If you are wanting to add a photo, we can also offer or picture blend service to make the child look like it part of the Height Chart theme. Tap Here for further photo information.
We also offer 4 style of rulers. Metric or US style inches & feet (you can select your ruler type when placing order):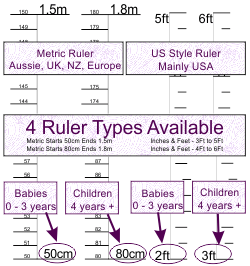 The following discounts apply to all these products.
25% Off All Height Charts
25% off storewide
Free Post Orders $50 + (Aust only)
Your Cart

Shopping cart
Your Account

Login Status
Not logged in